Our 14 unit Lodge is nestled on the banks of the historic Baldwin River, a quarter mile south of downtown Baldwin. Our clean and comfortable rooms allow guests to relax and enjoy the many activities northern Michigan has to offer...

The great thing about Baldwin is its right in the center of what is called the Century Circle -- the best trout, steelhead, and salmon fishing in the world.
Not only do you have the famous Pere Marquette in your back yard but you have some very famous rivers within a 40 minute drive...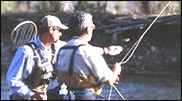 Although we do focus mostly on fly fishing we are open to everything under the sun. From drop back plug fishing in the heated cabin of my jet boat to throwing Rapalas at big trout in the summer. We like to have fun, and we even have discounts available for children...